'Blogger Blooms' is a highlight of some young adult book blogs that I've recently just discovered. These blogs don't exactly have to be new, they could be old as well. Three to four blogs will be featured for every post and I give a brief description on their blog. :)
Gaby over at
Oh My Books!
is a blog that I check quite often ever since I discovered it a week ago. She's a very active blogger and has various features on her blog. Her contents on her blog are reviews, author interview, contests, book news, guest posts, and a couple of memes. And also, she's an international blogger, which is very cool!
Emma over at
What's Cracking Coops?
is a blog that I just discovered yesterday! Emma is an australian blogger who loves reading, writing, and photography! She has review, cover craves, and participates in some memes. I look forward to checking out more of Emma's blog!
Bailey over at
IB Book Blogging
is a 16 year old IB student, who obviously, loves reading. She likes paranormal and fantasy, just like me! She participates in various memes and has reviews on her blog. Bailey is another active book blogger, she has posts almost daily. Her blog is great!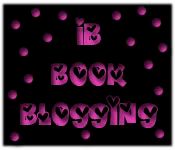 Those are all my blogger blooms! What are yours? Any blogs that have bloomed to you?